Tata Steel wins the Golden Peacock Environment Management Award 2015
Jamshedpur, July 11, 2015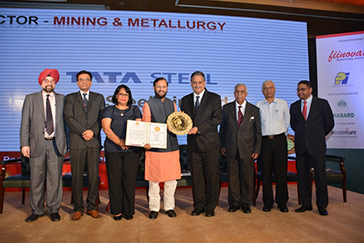 Tata Steel's West Bokaro Division has been awarded the 'Golden Peacock Environment Management Award' for the year 2015. The award was presented by Shri Prakash Javadekar, Hon'ble Minister of Environment, Forest and Climate Change, Government of India. On behalf of Tata Steel, the award was received by Mr Sanjay Rajoria, GM, West Bokaro, Tata Steel in the presence of eminent business leaders at this year's '17th World Congress on Environment Management'. The award ceremony was held at Hotel Le Meridien, New Delhi.
Speaking on the occasion Mr. Rajoria said 'It is a matter of pride and honour to receive the Golden Peacock Environment Management Award 2015. Tata Steel has always believed that respect for the environment is critical to the success of its business and strives for continuous improvement in environmental performance. This recognition is testimony to the out-of-box thinking and follow-through to execution by a highly committed team to whom the award is dedicated. It also exemplifies and reinforces our commitment to pursue excellence in all areas of operations."
Tata Steel has focused on responsible environmental practices and resource management while upgrading the skills of employees through training as new technologies evolve. Responsible practices and procedures ensure that all aspects of Tata Steel's business are conducted with the utmost respect for the environment.
Golden Peacock Awards, instituted by the Institute of Directors, India in 1991, are now regarded as a benchmark of Corporate Excellence worldwide and are presented annually under various categories. Golden Peacock Environment Management Award is the coveted and prestigious recognition that an organization could strive to win in the area of environment management. Golden Peacock Awards Secretariat receives over 1,000 entries per year for various awards, from over 25 countries worldwide. The award provides not only worldwide recognition and prestige, but a competitive advantage in driving business.
About Tata Steel
Established in 1907 as Asia's first integrated private sector steel company, Tata Steel Group is among the top global steel companies with an annual crude steel capacity of nearly 30 million tonnes per annum (MnTPA). It is now the world's second-most geographically-diversified steel producer, with operations in 26 countries and a commercial presence in over 50 countries. The Tata Steel Group, with a turnover of US$ 22.32 billion in FY 15, has over 80,000 employees across five continents and is a Fortune 500 company. The Group's vision is to be the world's steel industry benchmark in "Value Creation" and "Corporate Citizenship" through the excellence of its people, its innovative approach and overall conduct. Underpinning this vision is a performance culture committed to aspiration targets, safety and social responsibility, continuous improvement, openness and transparency. In 2008, Tata Steel India became the first integrated steel plant in the world, outside Japan, to be awarded the Deming Application Prize 2008 for excellence in Total Quality Management. In 2012, Tata Steel became the first integrated steel company in the world, outside Japan, to win the Deming Grand Prize 2012 instituted by the Japanese Union of Scientists and Engineers.