Tata Steel reinforces its commitment to society
Jamshedpur, June 20, 2013
~Donation of Rs 49 Lacs towards installation of 3rd Electric Furnace crematorium facility at Subarnarekha Burning Ghat~

~Donation of Rs 50 Lacs towards installation of 2nd Electric Furnace crematorium facility under Harivartan project of Parvati Ghat~
Tata Steel has always been committed to the society. In an endeavor to further this cause, Tata Steel took another step in this direction and provided financial assistance of Rs 49 Lacs to the Subarnarekha Burning Ghat committee towards installation of 3rd Electric Furnace at Subarnarekha Burning Ghat. This step is essentially to meet the growing demand of electric crematorium to ensure that people are able to perform the last rites of the deceased in quick time and at optimum cost apart from keeping environment clean.
In another similar initiative, Tata Steel donated Rs 50 Lacs towards installation of the 2nd Electric Furnace crematorium facility under Harivartan project of Parvati Ghat. Parvati Ghat, a non-Government and a non-profit organisation that serves the Steel city by providing services to perform last rites, is set to develop and upgrade the present facilities.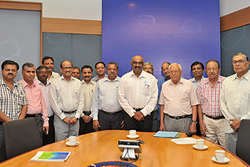 At a function organised today in Tata Steel's General office, Mr. Sunil Bhaskaran, Dy. VP, Corporate Services, Tata Steel handed over the respective cheques to Mr. S Chowdhury, President - Subarnarekha Burning Ghat & Mr. P S Sehgel, President - Parvati Ghat. Speaking on the occasion, Mr. Bhaskaran said "Tata Steel is committed to the noble cause of helping the society and shall always come forward to help such initiatives." The Presidents of the two Ghats on behalf of their respective organisation thanked Tata Steel for the generous contribution. Senior Executives from Tata Steel, organisation officials and other staffs were present on the occasion.