Tata Steel commemorates 108th Birth Anniversary of Pt. Raghunath Murmu
Jamshedpur, May 25, 2013
~10,000 tribal students to learn tribal languages~

~Tata Steel to set up 200 learning centers for Ol-Chiki and Warang Kshiti~
Tata Steel, in its commitment to conservation of tribal culture and identity, celebrated the 108th birth anniversary of Pt. Raghunath Murmu at Deoghara village in Bhilaipahari panchayat of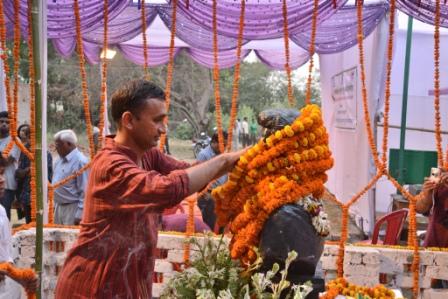 Jamshedpur block today. Fondly remembered as Guru Gomke, Pt. Murmu is the creator of Ol-Chiki script.

On the auspicious occasion of the 108th birth anniversary of 'Guru Gomke' Pt. Raghunath Murmu, Tata Steel's Tribal Cultural Society launched new learning centres to teach tribal languages. Announcing this at a glittering event at Deoghara village of Bhilaipahari panchayat, Mr. Biren Ramesh Bhuta, Chief, Corporate Sustainability Services, Tata Steel & Vice President, Tribal Cultural Society informed that the new learning centres would teach tribal languages of Santhali, Ho, Kudukh and Mundari to nearly 10,000 tribal children and youth. The initiative will be implemented by Tata Steel's Tribal Cultural Society in partnership with Jaher Than Committee, Adivasi Ho Samaj Mahasabha, Oraon Samaj Samiti and Bharat Munda Samaj.

On this occasion, village communities, tribal opinion leaders, Majhis, Pargnas and PRI members also enjoyed a cultural fest showcasing traditional competitions, tribal music and dance performances. Tribal musical instruments like Banam and Mandaal were also performed by teachers and students from classes run by Tribal Cultural Society to teach traditional musical instruments. This was followed by performances showcasing vibrant tribal dance forms from various parts of Jharkhand and Odisha like Kiho, Rata, Khariya, Dantha, Dasai, Rinjha etc.

The winners of Tribal Cultural Society's 'Traditional Singing Competition' selected from 1500 candidates across 50 panchayats of East & West Singhbhum and Seraikella Kharswan performed live at the event. The audiences enjoyed the traditional renditions in tribal languages of Santhali, Ho etc. The winners were felicitated at the Jayanti celebrations and Tribal Cultural Society is also planning to release an album of select traditional songs by these singers.
About Pt. Raghunath Murmu
Pandit Raghunath Murmu was born in Dandbose (Dahardih) village, Mayurbhanj district of Orissa. After a brief stint in technical profession, he took up the job of teaching in Badomtolia high school. During this time, he was drawn into Santhali literature. Santhali is a language with its own special characteristics, and has a literature which dates back to the beginning of the 15th century. He felt that Santhals with their rich cultural heritage and tradition also need a separate script to preserve and promote their language, and therefore, he took up the work of inventing Ol Chiki script for writing Santhali. The Ol Chiki was unveiled in 1925. He wrote over 150 books covering novels, drama, poetry, and stories in Santhali using Ol Chiki as a part of his extensive promotion to empower the Santhal community culturally. "Darege Dhan", "Sidhu-Kanhu", and "Kherwal Bir" are among the most acclaimed of his works apart from "Bidu Chandan".