The Countdown to the sixth edition of Samvaad begins
Ranchi, November 07, 2019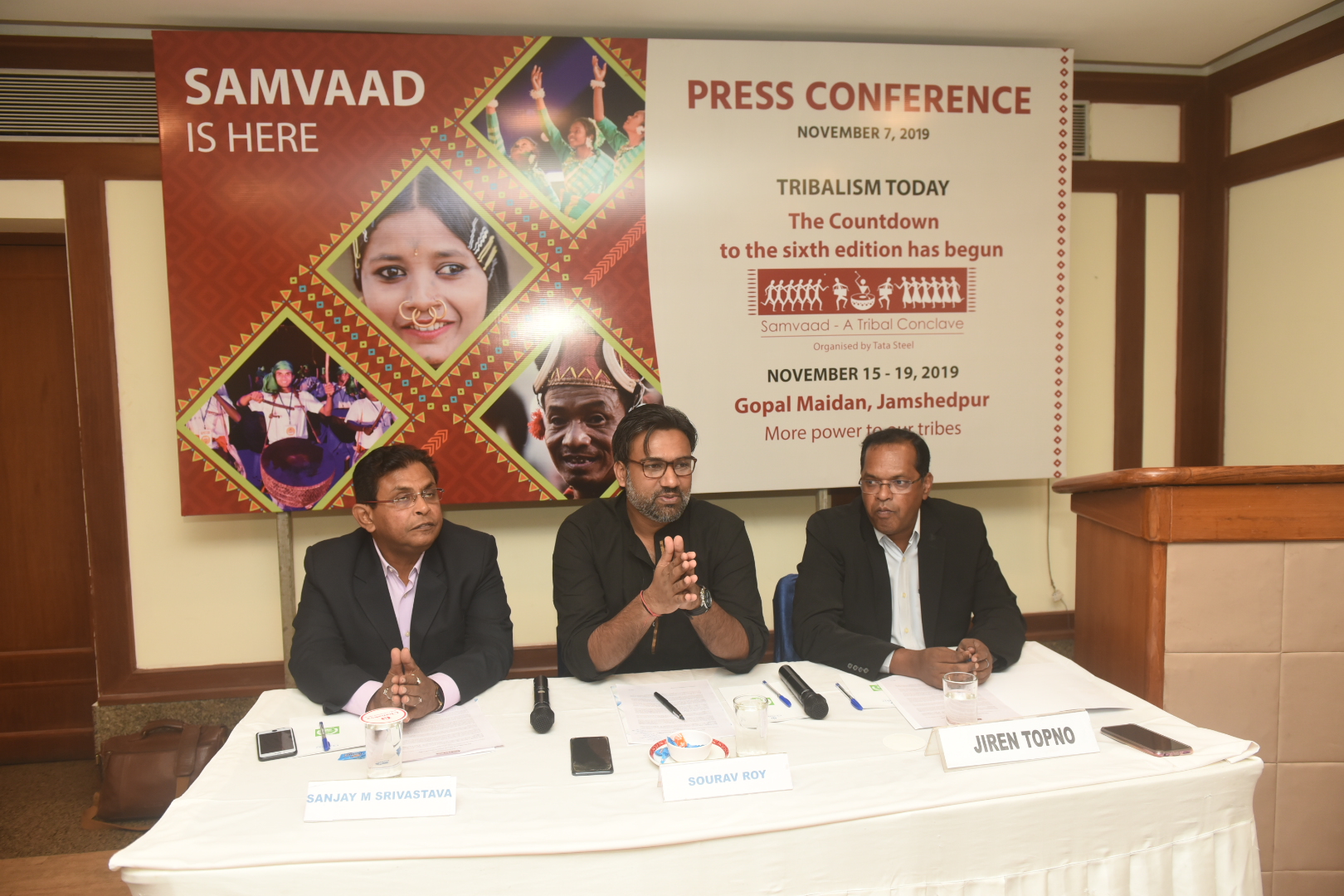 ~Conclave expected to be attended by more than 1300 tribal representatives and experts on tribalism across India and overseas~
Samvaad – Tata Steel's signature programme on tribal identity – turns six in 2019. Beginning with a total of seven regional editions across Coorg, Kalahandi, Itanagar, Gadchiroli, Gumla, Jhabua and Kharagpur, the main conclave is now set to take place from November 15 - 19, 2019 at Gopal Maidan, Jamshedpur. This was conveyed at a Press Conference held today Chaired by Mr. Sourav Roy, Chief CSR, Tata Steel. Present at the Press Conference were Mr. Sanjay Mohan Srivastava, CRE, Ranchi and Mr. Jiren Topno, Head Urban Services, Tata Steel.
Speaking on the occasion, Mr. Sourav Roy said, "In its sixth year, Samvaad is poised to celebrate tribal culture and explore alternative perspectives on development. While the mornings are reserved to understand and appreciate aspects that underline tribal identity, the evenings would be a one-of-its-kind celebration of tribal music, art, craft, cuisines and healing practices. The continued confidence placed in us by tribal communities remains a source of inspiration."
The conclave this year is focusing on 'Tribalism Today', that has been endorsed by more than 800 tribal men and women from 103 tribes across 18 states. The theme recognises that the world today is changing at an unprecedented pace which is placing complex questions, redefining success and eliciting complicated societal responses across the world but there is limited understanding on what all of this means for tribal communities as well as an openness to seek answers to some of these dilemmas which may actually rest with our tribes.
The Samvaad ecosystem, over the last five years, has developed into a platform that has reached out to more than 10,000 voices, across 15 countries worldwide and aims to provide a space to emerging voices from the tribal communities to explore aspirations and celebrate their heritage while sensitising non-tribal communities on the same.
The pan India conclave will hear stories from across the country and abroad with participation from international tribes like the Kalinago people from Dominica. Renowned development space experts and academicians like Patricia Mukhim, Loma Esther, Professor Ramaswami Balasubramanium, Amavi Amah Ayao, and many others will engage in sharing sessions to highlight their experience in various areas that affect the communities and enrich the platform with their thoughts. The five days will therefore witness a cross-pollination of ideas among more than 1000 tribal women and men who are expected to join us at Samvaad 2019 and will also celebrate the vibrant cultures of the different tribes.
The many offshoots of Samvaad such as Tribal Cuisine, Tribal Handicraft, Tribal Healers and the cultural performances from various tribes that contribute significantly to the essence of Samvaad will bring the traditional practices and rich heritage to the ground on all five evenings. In addition to exhibiting handicrafts, jewellery and handloom, for the first time, an open canvas at the site will showcase and celebrate the commingling of 7 - 8 tribal art forms which will be painted live by tribal men and women from various tribes.
With people embracing healthier diets and nutritional food habits, tribal cuisine has become an integral part of the conclave. Samvaad will celebrate traditional dishes of Warli tribe, Nocte tribe and Rabha tribe and host a curated lunch to promote the delectable flavours of these communities. Tribal Healers on the other hand will bring traditional medicinal knowledge from the tribal communities to the ground, making available treatments for health and lifestyle issues in addition to the work of International healers.
The evenings will boast of cultural performances from more than 15 tribes including ones by Bhil, Dhamsa, Rabha, Irula, Mavilan, Jaintia, etc. Samvaad's band Rhythms of the Earth which brought together 53 artists from 12 tribes in 2018, will partner with Swarathma this year to contribute to the musical brilliance with the view to promote and preserve the rich, harmonious heritage of the tribal communities.
About Tata Steel
Tata Steel group is among the top global steel companies with an annual crude steel capacity of 33 million tonnes per annum (MnTPA). It is one of the world's most geographically-diversified steel producers, with operations and commercial presence across the world. The group (excluding SEA operations) recorded a consolidated turnover of US $22.67 billion in the financial year ending March 31, 2019. In 2018, Tata Steel acquired Bhushan Steel Ltd (now renamed as Tata Steel BSL Ltd).
A Great Place to Work-Certified organisation, Tata Steel Ltd., together with its subsidiaries, associates and joint ventures, is spread across five continents with an employee base of over 65,000.
Tata Steel retained the 'Global Steel Industry Leader' position in the DJSI 2018. The Company has been recognised as the Climate Disclosure Leader in 'Steel category' by CDP (2017). Besides being a member of the World Steel Climate Action Programme, Tata Steel has won several awards including the Prime Minister's Trophy for the best performing integrated steel plant for 2016-17, 'GreenPro' certification for products (Tata Pravesh Steel Doors, Tata Structura, Tata Pipes) by CII, Authorized Economic Operator  (AEO) status (Tier 2) by the Directorate of International Customs (Ministry of Finance, Govt. of India), 'Corporate Strategy Award' by Mint (2018), Golden Peacock Award for Risk Management (2018) and Best Risk Management Framework & Systems Award (2019) by CNBC TV18. The Company also received the 'Most Ethical Company' award from Ethisphere Institute for the eight time (2019), Steel Sustainability Champion (2018) by the World Steel Association, Dun & Bradstreet Corporate Awards (2019), Golden Peacock HR Excellence Award by Institute of Directors (2018), 'Best Companies To Work For' recognition by Business Today, 'Asia's Best Integrated Report' award by the Asia Sustainability Reporting Awards (2017), among several others.
In 2018, the Company launched a corporate brand campaign #WeAlsoMakeTomorrow(www.wealsomaketomorrow.com)).
To know more, visit www.tatasteel.com | Follow us on





Disclaimer:
Statements in this press release describing the Company's performance may be "forward looking statements" within the meaning of applicable securities laws and regulations. Actual results may differ materially from those directly or indirectly expressed, inferred or implied. Important factors that could make a difference to the Company's operations include, among others, economic conditions affecting demand/ supply and price conditions in the domestic and overseas markets in which the Company operates, changes in or due to the environment, Government regulations, laws, statutes, judicial pronouncements and/ or other incidental factors.