Tata Global Beverages to set up tea packaging unit in Gopalpur Industrial Park
Bhubaneswar, November 14, 2018
Signs LOI (Letter of Intent) with Tata Steel Special Economic Zone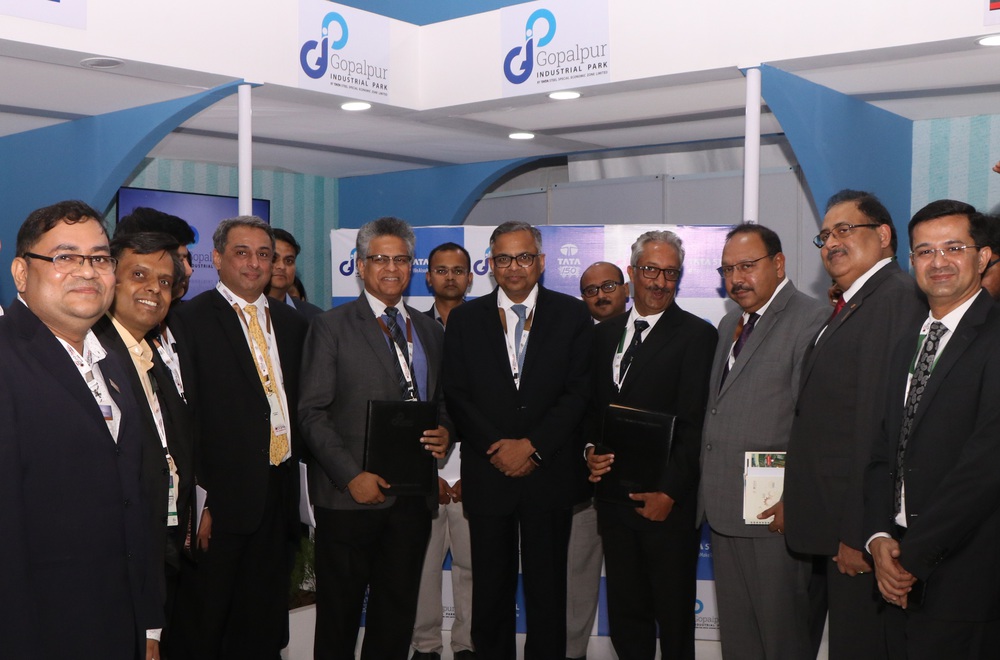 Tata Global Beverages Ltd. (TGBL) has signed an LOI with Tata Steel Special Economic Zone Ltd. (TSSEZL) for setting up a tea packaging unit with 36 million kgs capacity in Gopalpur Industrial Park. The LOI exchange took place between Mr. S S Malhotra, Vice President, Operations (South Asia), Tata Global Beverages Limited (TGBL) and Mr. Ashish Mathur, Managing Director, Tata Steel Special Economic Zone Ltd. on November 12 at Bhubaneswar during the Make in Odisha Conclave 2018. Present on the occasion were Mr. N Chandrasekaran, Tata Group Chairman, Mr. T V Narendran, CEO & Managing Director, Tata Steel and other senior officials of the company.
The tea packaging plant will cater to TGBL's Indian market and is scheduled to be operational by 2020. It will be operated by a third-party operator, nominated by TGBL. On full capacity, the plant will generate an employment for approximately 650 persons. The total investments envisaged for the plant is nearly Rs 100 Crores.
Gopalpur Industrial Park is located on National Highway 16 near Berhampur, and is just 2-hour drive from Bhubaneswar. With plug and play infrastructure, multi-modal logistics connectivity, ready environmental clearance and clear land title, Gopalpur Industrial park is emerging as the preferred investment destination of India. At present, a 55,000 TPA Ferro Chrome plant by Tata Steel, a defense manufacturing unit by Sure Safety Solutions Pvt. Ltd. and a metal based manufacturing unit by B S Minerals Pvt. Ltd are operating in the Industrial Park. TSSEZL has been engaging with other potential investors across the country and abroad and expects to firm up agreements with some of the companies shortly.
About Tata Steel Special Economic Zone Ltd.:     
Tata Steel Special Economic Zone Limited, a 100% subsidiary of Tata Steel Ltd, is developing its flagship industrial park in Odisha known as Gopalpur Industrial Park. The company plans to develop the industrial park as the emerging manufacturing hub both for domestic and export oriented industries. The Company would provide common Infrastructure, plug and play utility infrastructure and associated services to facilitate smooth grounding of the incoming units. For more information please visit www.tatasteelsez.com
About Tata Global Beverages Ltd.:
Tata Global Beverages is a global beverage business; its brands have presence in over 40 countries. The Company has significant interests in tea, coffee and water and is the world's second largest tea company. 330+ million servings of its brands are consumed everyday around the world.  Tata Global Beverages Group has an annual turnover of approximately US$1.4bn including from its JV's and associates; it employs around 3,000 people across the world.  The company focuses on natural beverages and has a stable of innovative regional and global beverage brands, including: Tata Tea,
Tetley, Himalayan natural mineral water, Tata Water Plus and Tata Gluco+, Good Earth tea, Grand Coffee and Eight O'clock coffee.
For more information please visit www.tataglobalbeverages.com
Disclaimer
Statements in this press release describing the Company's performance may be "forward looking statements" within the meaning of applicable securities laws and regulations. Actual results may differ materially from those directly or indirectly expressed, inferred or implied. Important factors that could make a difference to the Company's operations include, among others, economic conditions affecting demand/ supply and price conditions in the domestic and overseas markets in which the Company operates, changes in or due to the environment, Government regulations, laws, statutes, judicial pronouncements and/ or other incidental factors.