Jamshedpur FC announces online ticket sales at Tata Steel Jamshedpur Run-a-thon 2017
Jamshedpur, November 05, 2017
~ Names Kyazoonga as the Ticketing Partner ~
~ Tickets available for Rs.50, Rs.150 and Rs.240 ~
~ Home matches to be held at the JRD Tata Sports Complex ~
Jamshedpur Football Club launched ticket sales for their maiden season in the Indian Super League (ISL) today at the Tata Steel Jamshedpur Run-a-thon 2017 event held at the JRD Tata Sports Complex. The launch was in front of more than 6000 running enthusiasts. Mr T V Narendran, CEO and Managing Director of Tata Steel, unveiled the ticket. The club also announced the appointment of Kyazoonga.com as their Official Ticketing Partner.
Speaking at the launch, Mr Narendran said "The Tata Group has a rich legacy in football in the country with the Tata Football Academy (TFA). TFA has in its lifetime produced players who have represented India at the international level. After having been involved in football for such a long time, launching a team in the ISL was the logical progression for us, and with the ticket launch today, we are one step closer to that goal!"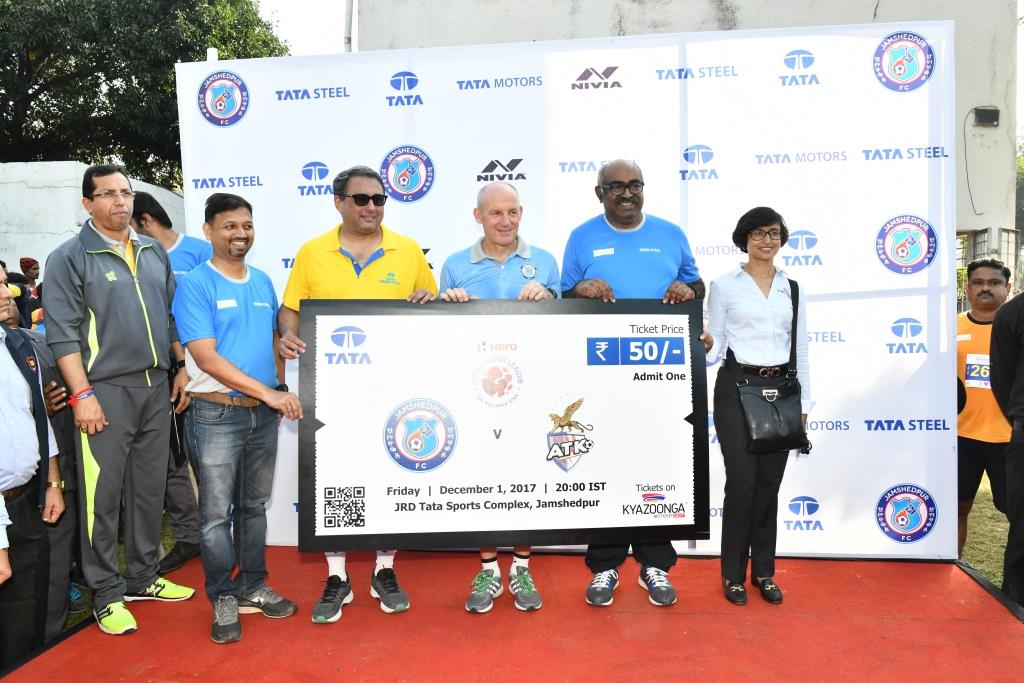 The tickets for the home games have been priced such that everyone can and support their home team, Jamshedpur FC. The entry price is a reasonable Rs.50, while the other categories are priced at Rs.150 and Rs.240
Mr Narendran further said that Jharkhand has inherent passion for football which cuts across strata. "We want everyone to come and enjoy top quality football in Jamshedpur through a family friendly stadium experience. We want the fans to come and cheer for the football club of Jamshedpur in large numbers.", said Mr Narendran.
The newest entrant in the coveted Indian Super League football tournament, Jamshedpur FC will host all its home games at the JRD Tata Sports Complex. Speaking at the launch, Mr Mukul Choudhari, CEO, Jamshedpur FC said "We are delighted to have Kyazoonga as our Ticketing Partner. Kyazoonga is a pioneer in ticketing large events in the country, and has also just completed a very successful historic FIFA U-17 World Cup. We hope to leverage their tremendous experience with ticketing to create a seamless experience for the people of Jamshedpur."
Fan engagement has already begun well ahead of the launch with the ticket alert signup where thousands of fans registered to be the first to know about tickets and associated pricing.
Speaking about the tie up with Jamshedpur FC, Ms Neetu Bhatia, Co-founder and CEO of Kyazooonga.com said, "We are excited to partner with Jamshedpur FC as their Official Ticketing Partner. It is an honor for us to be associated with the Tata Group. We deeply identify with and respect the values of the Tata Group, and will do our best in enabling Jamshedpur FC deliver the best possible match experience for all the fans."
Fans can login to kyazoonga.com/JamshedpurFC to purchase their tickets or buy them from their mobile phones. Fans can also pay cash and do their bookings from multiple retail partners in Jamshedpur and neighboring cities listed below. Fans should keep checking the website as more retail partners are added. Announcements and updates will be made on the customer update section of kyazoonga.com (bell icon on the upper right hand corner) with box office on-sale dates, additions to retail outlets and other pertinent ticketing information.
Authorized retail partners:
| | | |
| --- | --- | --- |
| # | Outlet Name | Address |
| 1 | La Gravitea | 2, C.H. Area North, Opp. Rifle Club, Jamshedpur |
| 2 | Jay Pee Sports | G7, Kali Tower, Lalpur Chouk, Ranchi |
| 3 | Bikers Point | Yash Plaza, Nh-33, Mango, Beside Sahara City, Jamshedpur |
| 4 | Bikers Point | Manjula Aviskar Mansion, Snp Area, Sakchi, Beside SBI Bank, Jamshedpur |
| 5 | Bikers Point | Kalimati Road, Sakchi, Beside SBI-in-touch, Jamshedpur |
About Kyazoonga
Launched in early 2007 as India's first and largest entertainment and sports ticketing company, Kyazoonga has rapidly grown to become an international ticketing company with proprietary technology and IP that has delivered seamless ticketing services to most of the largest international sports and entertainment events and fans around the world. Kyazoonga offers consumers easy access to all forms of ticketed entertainment and sports with multiple payment options through its online, retail, mobile, social and box-office distribution channels.
With its mission of "Tickets made simple for everyone, everywhere", Kyazoonga is committed to democratizing access for consumers to world-class events while significantly enhancing their purchase experience. The company's partners include some of the world's leading sports franchises, concert promoters and event organizers. It successfully ticketed the just concluded FIFA U-17 World Cup in India. Kyazoonga is backed by a $18 billion New York based hedge fund that has multiple investments in cutting edge e-media companies. Mr. Ratan Tata, Chairman Emeritus of the Tata Group is also an investor in the company.