K Prabagaran and team win the Pro-Am event of the 15th TATA Open
Jamshedpur, December 14, 2016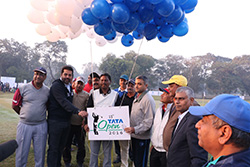 The Pro-Am event of the 15th TATA Open witnessed amateur golfers from the Tata Group and Jamshedpur play alongside some of the top professional golfers in the country.
The Pro-Am event was played in the Team Stableford format with each team comprising of one professional and three amateurs.
The event was won by Sri Lankan professional K Prabagaran's team. Prabagaran's team comprised of amateurs Mr. Nipam Mehta, Mr. Biren Kumar and Mr. Jatin Duggal. Their team total was 120.
Panchkula-based professional Shubhankar Sharma's team were runners-up with a team total of 119. Shubhankar's team comprised of amateurs Mr. Rajiv Mehta, Mr. Rajesh Patel and Mr. Manoj Mithal.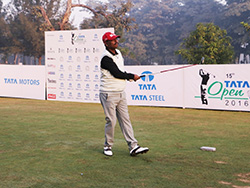 Dr. Shrikant Nair won the prize for the closest to the pin on hole no. 1. His tee shot landed within ten feet and nine inches of the hole.
Mr. Shubhankar Bhowmick won the prize for the straightest drive on hole no. 11. His shot landed within one and a half inch from the centre of the fairway.