Tata Steel set to organise Art-In-Industry Camp
February 16, 2015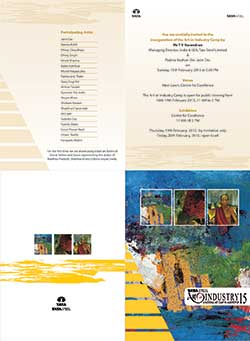 Tata Steel is all set to organise Art-in-Industry Camp at the Centre for Excellence, Jamshedpur, from 15th - 20th February, 2015. Mr T V Narendran, Managing Director, Tata Steel, India & SEA and Mr Jatin Das, Padma Bhushan Awardee will jointly inaugurate the camp with brushstrokes on an empty canvas.
The highlights of the camp include workshop for Art students, interaction with Artists and two-day exhibition-cum-sale of the art created during the camp.
The concept of Art-in-Industry dates back to 1943 when Tata Steel was one of the prize donors of an exhibition and sale of art in the JJ School of Art, Mumbai, wherein artists were invited to compete for prizes and scholarships. The aim even then was not merely to be able to sell the entries or acquire the paintings, but also to bring the talent of lesser known artists to the notice of leading industrialists and patrons of art.
Tata Steel patronage continued through regular art camps for young talent in the city of Jamshedpur. By hosting established artists in the steel city, the steel company has over decades perfectly smelted the evolution of an industrial society with the creative energies of a young nation. Established art galleries are invited to bring their best group of young and seasoned artists to week-long camps at the Centre for Excellence, a monumental ambience conceived by Hafeez Contractor, an artist extraordinaire of this era.
The participation of local artists in the camp fulfils a dual purpose. It allows the community to enjoy art from a specific region, opening a window to the way of life of the people of their own region. The camps are today as much a source of learning for the young artists as they are for the community, weaving a support system for tribal talent to bloom under Tata Steel's patronage. The likes of Anjolie Ela Menon, Jatin Das, Rini Dhumal, Dhiraj Choudhry, and many other leading lights of the Indian art artist fraternity continue to support Tata Steel's effort by participating year after year.
Details of participating Artists in the camp:
| | |
| --- | --- |
| Serial No | Participating Artists |
| 1 | Jatin Das |
| 2 | Seema Kohli |
| 3 | Dhiraj Choudary |
| 4 | Dhiraj Singh |
| 5 | Vinod Sharma |
| 6 | Balan Nambiar |
| 7 | Murali Nagapuzha |
| 8 | Pandurang Thate |
| 9 | Saroj Gogi Pal |
| 10 | Arshad Sauleh |
| 11 | Surendra Pal Joshi |
| 12 | Anjum Khan |
| 13 | Srikant Kadam |
| 14 | Shubhra Chaturvedi |
| 15 | Anil Ijeri |
| 16 | Subrata Das |
| 17 | Sumita Maity |
| 18 | Gouri Prasad Raut |
| 19 | Uttam Mallik |
| 20 | Haripado Mukhi |
About Tata Steel
Established in 1907 as Asia's first integrated private sector steel company, Tata Steel Group is among the leading steel manufacturers in the world with an annual crude steel capacity of over 26.5 million tonnes per annum (mtpa). It is now the world's second-most geographically-diversified steel producer, with operations in 26 countries and a commercial presence in over 50 countries. The Tata Steel Group, with a turnover of US$ 26.13 billion in FY '12, has over 80,000 employees across five continents and is a Fortune 500 company. The Group's vision is to be the world's steel industry benchmark in "Value Creation" and "Corporate Citizenship" through the excellence of its people, its innovative approach and overall conduct. In 2008, Tata Steel India became the first integrated steel plant in the world, outside Japan, to be awarded the Deming Application Prize 2008 for excellence in Total Quality Management. In 2012, Tata Steel became the first integrated steel company in the world to win the Deming Grand Prize 2012 instituted by the Japanese Union of Scientists and Engineers.