Kolkata ran from its heart at 'Tata Steel Kolkata (TSK) 25K'
Kolkata, December 21, 2015
Kolkata ran from its heart at 'Tata Steel Kolkata (TSK) 25K'

~Sudha Singh triumphed in the top women Elite Runner category and Elam Singh ranked 1st in the Elite Men's category ~

~ Over 8000 runners participated in the 2nd Edition of TSK 25K, India's first accredited 25K Run~

The city of joy came out today in huge numbers to participate in the much awaited Tata Steel Kolkata (TSK) 25K, India's first accredited 25K Run. The second edition of the TSK25K witnessed grand success with the participation of over 8,208 runners which included India's finest professional athletes, amateur runners, fitness and health enthusiasts. Sudha Singh and Elam Singh came out as champions in the Elite women and men category respectively.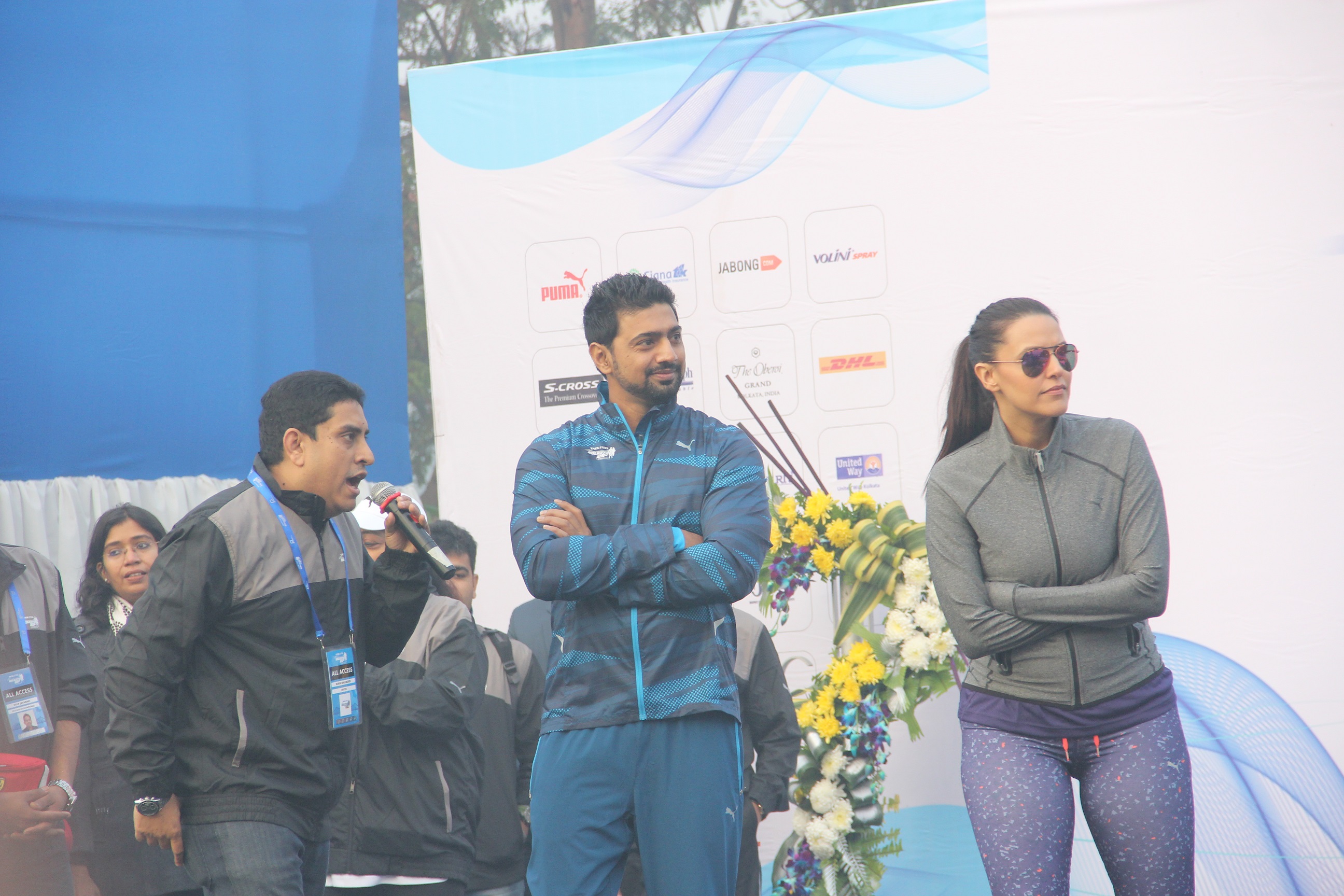 Tata Steel Kolkata (TSK) 25K focused on encouraging Indian running talent, amateur men & women runners and any individual who needed a platform to showcase their ability, determination and self-belief to make their lives brighter and better. Race categories include the 25K (elite and amateurs), Open 10K (amateurs), Ananda Run (6 km), Sr. Citizens' Run (4 km), and Champions with disability (4 km), giving an equal opportunity to all individuals to participate and encourage an overall active sporting lifestyle.

The TSK25K witnessed the participation of many eminent personalities from various spheres of life. The wintry morning witnessed the TSK25K being flagged off by His Excellency Sri Keshari Nath Tripathi, Hon'ble Governor of West Bengal in presence of a plethora of celebrities, which included cricket icon Yuvraaj Singh; Neha Dhupia, Actor; Dev, Member of Parliament and actor, Rituparna Sengupta, Actor and many more. The Marathon witnessed participation of Mr TV Narendran, MD, Tata Steel, India & SEA, in the 10K Run Category. Post the successful completion of the run, Mr TV Narendran said, "At Tata Steel, sports has always been a way of life and over the years we have always supported sports. We have many eminent sports personalities in Tata Steel. We believe in taking care of our employees and one such way is to encourage them to be healthy, to be active and to be out there. We thought of extending this concept to the communities with whom we live and as a result we have the Jamshedpur Run, Bhubaneswar Run and in Kolkata the biggest run in the eastern region; The Tata Steel Kolkata 25K. This is the second year we are having it in this format and we will continue to support it. We look forward to the continued increased participation from the community in Kolkata and citizens of Kolkata."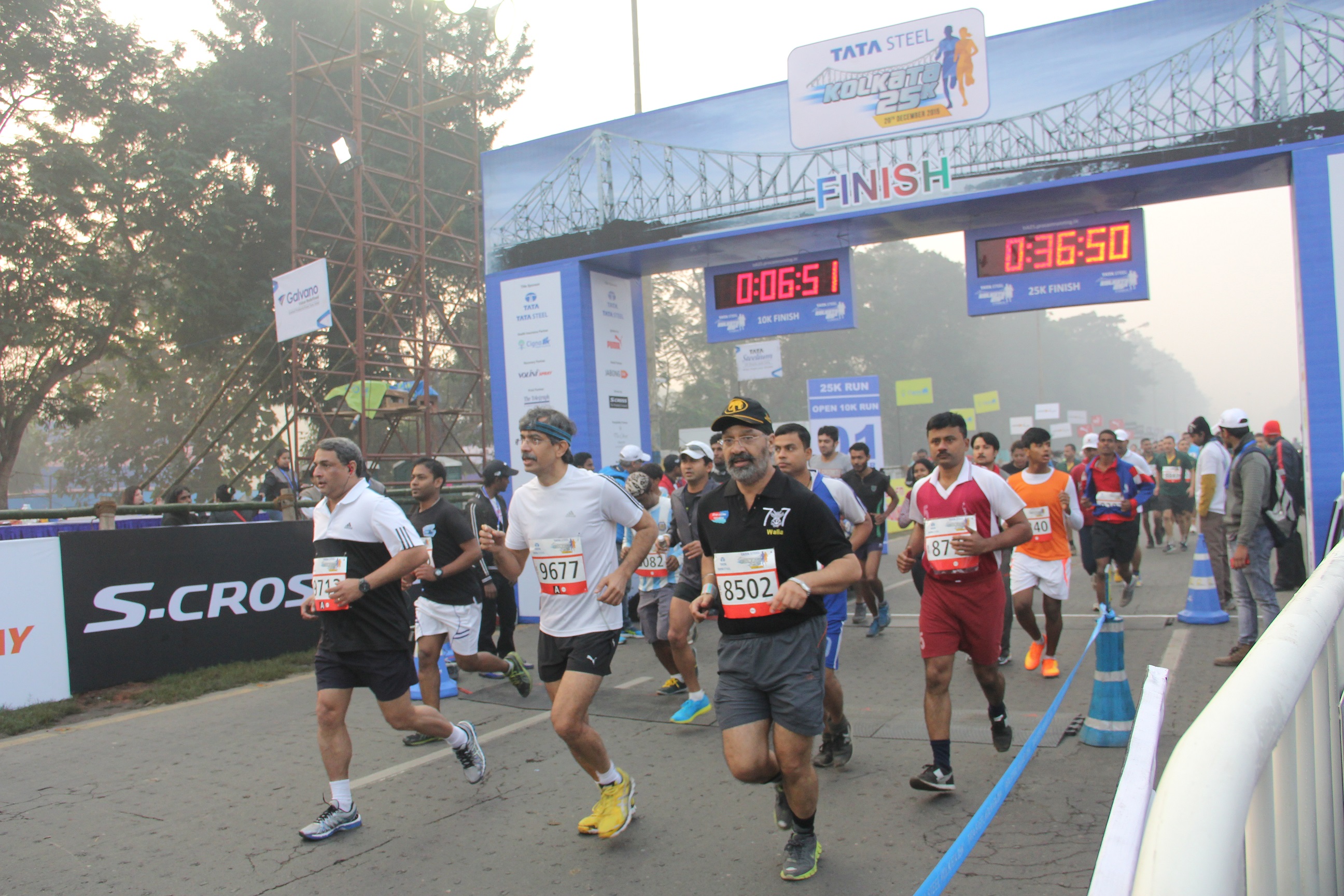 The TSK25K also witnessed the presence of Mr Peeyush Gupta, VP, Steel (Marketing & Sales), Tata Steel, Mr Sunil Bhaskaran, VP CS, Tata Steel and Mr Chanakya Chaudhary, Group Director, Corporate Communications and Regulatory Affairs, Tata Steel.

The first place winners of Elite Category received a purse of Rs. 2, 50,000 followed by Rs. 1, 75,000 for the second place while third place winner received Rs. 1, 00,000.

Champions of TSK25K-

Elite 25K Run
Name

Time (hrs:min:sec)

Winner (Men)

Elam Singh

01:20:14

Winner (Women)

Sudha Singh

01:27:31

(NCR)

1

st

Runner-up (Men)

Srinu Bugatha

01:20:16

1

st

Runner-up (Women)

Lalita Babar

01:27:41

(NCR)

2

nd

Runner-up (Men)

O Sanaton Singh

01:20:23

2

nd

Runner-up (Women)

O P Jaisha

01:28:05

Police Cup:
Winner: Team 5: (Sandip Datta & Toyasin Molla) 00:38:54.
1st Runner up: Team 12 (SK Sukchand & Md Wazed Ali) 00:40:50.
2nd Runner up: Team 15 (Dipankar Mandal & Sagar Mukhiya) 00:41:45.

About Tata Steel
Established in 1907 as Asia's first integrated private sector steel company, Tata Steel Group is among the top global steel companies with an annual crude steel capacity of nearly 30 million tonnes per annum (MnTPA). It is now the world's second-most geographically-diversified steel producer, with operations in 26 countries and a commercial presence in over 50 countries. The Tata Steel Group, with a turnover of US$ 22.32 billion in FY`15, has over 80,000 employees across five continents and is a Fortune 500 Company. The Group's vision is to be the world's steel industry benchmark in "Value Creation" and "Corporate Citizenship" through the excellence of its people, its innovative approach and overall conduct. Underpinning this vision is a performance culture committed to aspiration targets, safety and social responsibility, continuous improvement, openness and transparency. In 2008, Tata Steel India became the first integrated steel plant in the world, outside Japan, to be awarded the Deming Application Prize 2008 for excellence in Total Quality Management. In 2012, Tata Steel became the first integrated steel company in the world, outside Japan, to win the Deming Grand Prize 2012 instituted by the Japanese Union of Scientists and Engineers.