Tata Steel felicitates Dronacharya awardee Purnima Mahato
Jamshedpur, September 02, 2013
~An honourable moment for the whole fraternity of Tata Steel~
Tata Steel felicitated Dronacharya Awardee 2013, Ms. Purnima Mahato, today, at a ceremony organised in the premises of JRD Tata Sports complex.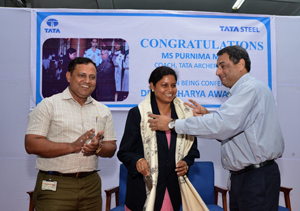 Chief Guest for the occasion, Mr T V Narendran, VP, Safety and Flat Products, Tata Steel congratulated Ms. Purnima Mahato and expressed his happiness over Purnima's efforts being recognised. In his address to the gathering, Mr. Narendran mentioned about how the efforts of the coaches generally get eclipsed and that the players get away with all the success limelight. He also expressed his hope that Sportspersons like Purnima and others would definitely steer Indian Sports to greater heights.
Ms. Purnima Mahato thanked Tata Steel for giving her the opportunity to train herself and then coach archers like Deepika Kumari and others at Tata Archery Academy. She also expressed her gratitude to others including her colleagues and friends who helped her achieve this feat.
The function was attended by sports officials and students of different training centers.
Ms. Purnima Mahato joined Tata Steel in 1994 and has been coaching the cadets of Tata Archery Academy ever since. An accomplished archer, Purnima Mahato won a gold medal (Team) in the International Archery Championship held at Bangkok in 1993. She has several other National and International achievements to her credit.
Purnima Mahato has been one of the most successful coaches in guiding Indian Archery teams in the International arena. In 2005, she accompanied the Indian Archery team to Spain for the 43rd Senior World Outdoor Archery Championship where India won a Silver medal. She was the coach of the Indian team which won a Gold medal for the boy's event and a Bronze Medal for the girl's at the Senior Asian Archery Championship held in China in 2007. Her some latest achievements as a coach includes - 2012 Asian Grand Prix Archery Championship, Bangkok – Girls Team SILVER; 2012 World Cup Stage 2, ANTALYA – Deepika Kumari GOLD; 2012 Olympic Games London – Participated.