Fresh batch of cadets join Tata Football Academy
Jamshedpur, May 30, 2012
Tata Football Academy is an institution committed to nurturing the national football talent pool in India with a fleet of young, talented football players, who are trained and oriented at international standards, to take forward the football spirit of the nation. And keeping with this promise, TFA has selected 16 cadets for its 12th batch.
The cadets were selected after a rigorous selection process, which included testing at 3 different levels. The candidates had to successfully go through trials and multiple talent search camps from December 2011 to April 2012.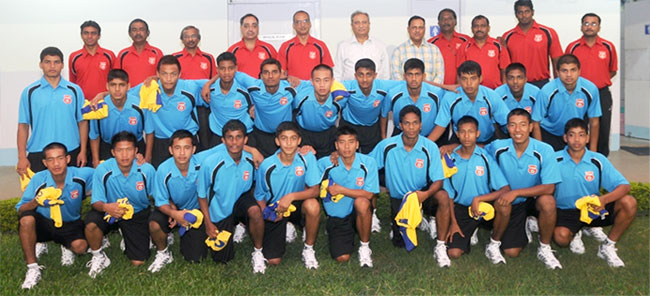 During the selections, the TFA coaches evaluated more than 1000 young boys from across the country. The final selection from amongst 60 boys was conducted by the Sheffield United Football Coaches in Jamshedpur in the first week of April.
The new batch consists of 16 boys from 8 States from across the country- from the East, North East, North and South. The coaches separately selected 3 boys for including them in the senior batch so as to augment the batch's strength. The fresh cadets will undergo basic and advanced training in TFA over the next four years and pass out in 2016 as professional football players.
Mr Sanjiv Paul, Vice President, Corporate Services, Tata Steel and Chairman, Board of Management, Tata Football Academy, presented the TFA Colours to the fresh cadets on May 29, 2012.
Mr Paul extended a warm welcome to the boys and encouraged them to take up the upcoming challenges in the best of sporting spirit and with a zeal to serve the cause of football in India. He further reiterated the management's vision for upgrading the standards of TFA so as to match it with the standards of outstanding international sporting academies.
The names of the fresh cadets to be included in Batch 12 are as follows:
| | | | |
| --- | --- | --- | --- |
| SN | Name | SN | Name |
| 1 | Aibanbha Kupar Dohling | 9 | Hitesh Sharma |
| 2 | L Jonathan Ginthianlal | 10 | Khaikhogen Kipgen |
| 3 | O Romtan Singh | 11 | Konsham Chinglensana Singh |
| 4 | Ramandeep Kumar | 12 | M Rahul Raj |
| 5 | Thiyam Chingkheinganba | 13 | Seiminlum Kipgen |
| 6 | Vijay Kumar | 14 | Sourav Das |
| 7 | Asil K | 15 | Arjun |
| 8 | Aibanbha Kupar Dohling | 16 | Abdul Bilal |
The names of the 3 cadets to be included in Batch 11 are as follows:
| | | | |
| --- | --- | --- | --- |
| SN | Name | SN | Name |
| 1 | Sandeep Alhan | 3 | Longjam Lamyamba Meitei |
| 2 | Rajak Nag | | |