Book on 'School Safety Audit Checklist' Released by SAFE, Tata Steel
Jamshedpur, July 06, 2012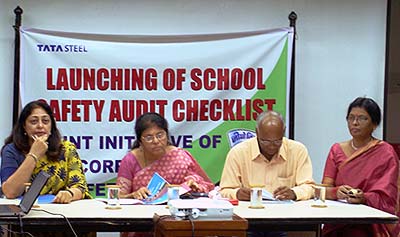 A book depicting checklists related to School Safety Audit was launched in Center For Excellence (CFE), Tata Steel, today. Corporate Safety Department of Tata Steel, in collaboration with SAFE, has developed a school safety audit checklist for ensuring a complete safe environment for the blooming buds.
Ms Chandra Sharan, Conveynor, SAFE, steered the proceedings of the book release event and an interactive session was organised in the presence of Ms Surekha Nerurkar, Chairperson, SAFE, Ms Ruchi Narendran, Co-Chairperson, SAFE, Mr O B Krishna, Chief, Safety, Tata Steel and others.
The book "School Safety Audit Checklist" states the safety measures required to be followed by all schools to avoid accidents and catastrophic incidents. Thus, it was suggested that the state education department, with the support of the district/ local administration adopt the School Safety Plans mentioned in the book, at all levels.
SAFE believes that the promotion of disaster awareness, preparedness and mitigation in schools has enormous potential for diminishing the occurrence and impact of any emergencies. The checklist broadly includes 10 elements and is as enclosed:
Planning process and deployment structure
Fire Safety Measures in School
Training of School teachers and other staffs
School building specification compliance
Clearance and certification compliance
Transportation safety
Laboratory safety
Electrical Safety
Emergency Preparedness
General housekeeping and other
During the session, many questions on school safety were answered by the guests present. The final vote of thanks was proposed by Mr Santosh Kumar Singh of Safety Department.