Ace mountaineer trains her sight on the seven summits of the world
Kolkata, November 01, 2012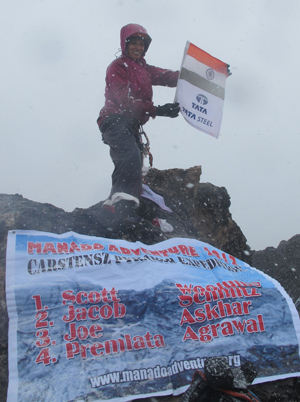 Ms Premlata Agrawal, the oldest Indian woman mountaineer to have scaled Mt Everest, has trained her sight on completing the 'Mountaineering Challenge' of climbing the "Seven Summits".
After scaling Mt. Everest (29,035 ft.), Killimanjaro (19,334 ft.), Aconcagua (22,841 ft.), Mount Elbrus (18,442 ft) Europe, and Carstensz Pyramid (16,023 ft) Indonesia, the 48 -year -old mountaineer is all charged up for her expedition to the remaining two summits ,Vinson Massif (Antarctica)and Mount McKinley (North America). Tata Steel is the proud sponsor of her expedition, and is supporting her with a sponsorship of Rs 80 lakh to climb the summits.
The one who completes this challenge of conquering all the seven summits is considered to be a member of the 'Hall of Fame' for mountaineers. If Premlata achieves this remarkable feat - she is targeting 2013 for that- she will then become the first Indian woman and one the oldest women in the world to conquer all the seven summits.
On prior occasions, Ms Agrawal has participated in several expeditions, notable among them being -
The Island Peak Expedition in Nepal (20,600 ft) in 2004,

The Karakoram Pass Expedition (18,300 ft) and Mt Stok Kangri (20,150 ft) in 2006,

The First "Indian Woman's Thar Desert Expedition" in 2007 which involved a 40- day Camel Safari along the International Border from Bhuj in Gujarat — Rann of Kutch — Thar in Rajasthan, upto Wagah Border in Punjab.
These achievements were also recognised as a National Record and found her a place in the Limca Book of Records. Premlata, a homemaker and mother of two grown up daughters, started climbing mountains at the age of 35.
About Tata Steel (General)
Established in 1907 as Asia's first integrated private sector steel company, Tata Steel Group is among the top-ten global steel companies with an annual crude steel capacity of over 26.5 million tonnes per annum (mtpa). It is now the world's second-most geographically-diversified steel producer, with operations in 26 countries and a commercial presence in over 50 countries. The Tata Steel Group, with a turnover of US$ 26.13 billion in FY 12, has over 80,000 employees across five continents and is a Fortune 500 company. The Group's vision is to be the world's steel industry benchmark in "Value Creation" and "Corporate Citizenship" through the excellence of its people, its innovative approach and overall conduct. Underpinning this vision is a performance culture committed to aspiration targets, safety and social responsibility, continuous improvement, openness and transparency. In 2008, Tata Steel India became the first integrated steel plant in the world, outside Japan, to be awarded the Deming Application Prize 2008 for excellence in Total Quality Management. In 2012, Tata Steel became the first integrated steel company in the world to win the Deming Grand Prize 2012 instituted by the Japanese Union of Scientists and Engineers.