Tata Steel 's FAP Division Conferred Orissa State's Safety Award 2002-03
Jamshedpur, November 27, 2004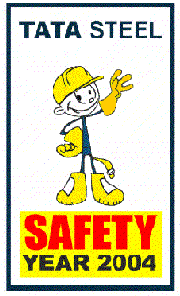 The Ferro Alloy Plant (FAP) of Tata Steel at Bamnipal, Orissa has been conferred the State Safety Award for the year 2002-03. FAP division has bagged first prize for lower weighted frequency rate of accident. The award was handed over to Shri K.S. Raju, Chief (FAP) and Shri Harihara Barik, General Secretary, Employees Union of FAP, Bamnipal of Tata Steel by the Honourable Minister of State for Labour and Employment, Government of Orissa, Shri P.K. Naik in a function at Bhubaneswar today.
The competition was conducted by the Directorate of Factories and Boilers as well as State Safety Award Committee, Government of Orissa.
The award comes to Tata Steel's FAP Division at the most appropriate juncture as the Steel Company has launched a Company wide campaign to achieve international standards in safety this year. It has declared year 2004 as Year of Safety. With this in mind it has engaged DuPont, which is known world wide as a World Class Safety Performing Company. Due to increase in the demand for steel in the domestic as well as international market, most of the major steel producers are going through massive expansion plans, which in return have resulted in further exposing the steel makers to more hazards and risks at the workplace. This is equally applicable to Tata Steel. Therefore, to combat the high level of vulnerability in steel making, Tata Steel has given utmost emphasis on awareness and training on safe working practices and prevention of accidents.
Tata Steel has achieved several milestones in many areas of business; it also aspires to be the world class in safety performance. The Companies aspiration is to bring a change in the philosophy; to imbibe a culture of 24 hours safety in and around - safety at home, in town and on streets is equally important to the Company.
Amongst the dignitaries, the Secretary, Labour and Employment, Shri D.N. Mishra and Director, Directorate of Factories and Boilers, Shri S.N. Mishra were present during the award ceremony.