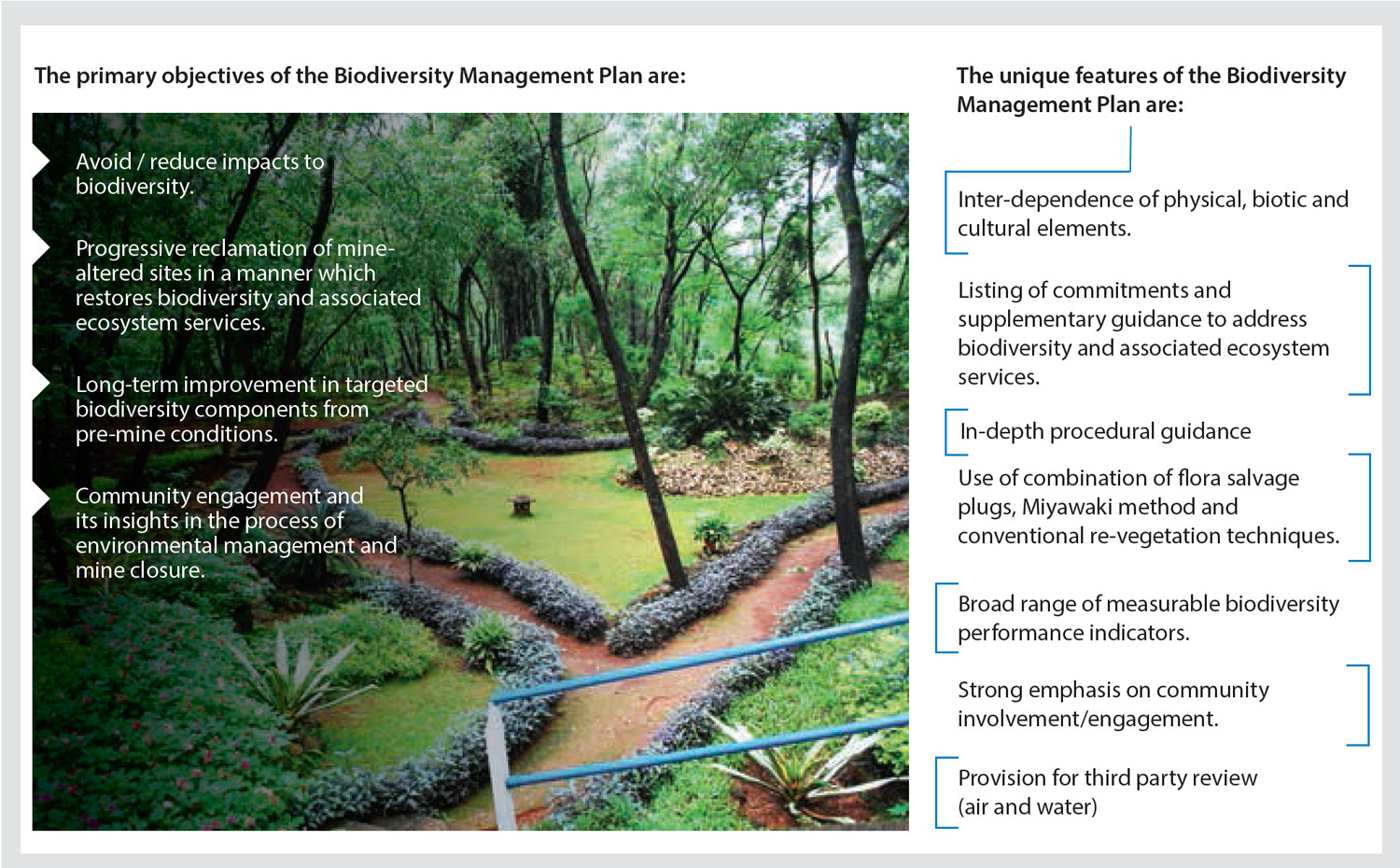 Raw material locations have taken up projects as part of the Annual Business Plan, for implementation of biodiversity management plans such as the:
Butterfly Park at Sukinda and Joda.
Niche Nesting (Artificial bird nesting boxes) at Noamundi.
Developing local forest in dump area at Sukinda.
Integrating rain water harvesting structures in periphery for improving aquatic life at Sukinda.
Agro-biodiversity enhancement at Jharia.
Dump reclamation using Mulberry Plantation at West Bokaro.
Some of the other stakeholder engagement initiatives are 'Spot the Species', 'Green Therapy', 'Jaiba Kala Vividhata', 'Prajatiya Khadyotsav' and 'Snakes are Friends'.
Biodiversity assessment done with IUCN has revealed that in some of the mining sites, biodiversity in our lease area is better than outside our lease area and that is a testimony of our efforts towards maintaining greenery and water harvesting. Environment management plans and progressive mine closure plans are also in place and are being monitored and reviewed internally by Indian Bureau of Mines.
Key Technological Developments and Innovations
Some of the key technological developments and innovations for improvement of natural capital while caring for the safety and productivity of human capital are as follows:
Surveillance of service vehicles through GPS-based tracking system and speed monitoring device was implemented at Joda East Iron Mine.
Steps taken towards green energy - Installation and trial of 3 MW Solar Power Plant completed at Hill #1 of Noamundi.
13.7% reduction in energy consumption in Ores, Mines and Quarries township areas achieved through various initiatives like replacement of conventional light fittings with LED lights, installation of energy-efficient fans/air conditioners, monitoring and communication (through SMS) of energy consumption of individual houses etc.
Introduction of pre-fabricated vertical drains for embankment construction of Slime Dam at Noamundi. The vertical drains will enhance the stability of the dam after the augmentation of the slime storage capacity.
Advanced blast monitoring and vibration management projects were successfully conducted for excavation of critical top benches of Banspani hill at Joda East Iron Mine and Khondbond Iron Mine.
Aquifer-based Water Harvesting technology used for the Bokaro River project to supply 1,000 KL of water per day to seven surrounding villages with 7-8 km piping laid out.
Installation of the Man-Riding system for transportation of man and light load in underground mines. It has been commissioned in Sijua Colliery and has reduced the average travel time by 70%, eliminated exhaustive travelling and has resulted in productivity improvement of employees. Similar systems may be installed in two other collieries of the Jharia Division.
An air-cooling system to be installed in the Digwadih Colliery to enable reduction in the temperature of underground mines, and thereby help increase the productivity of mines.
Our compliance to most stakeholder expectations has yielded significant benefits such as early issuance of permits for Mines, Steel Works at Jamshedpur and Kalinganagar. As a result of our dedicated efforts, we have significantly improved in the areas of energy consumption, CO2 intensity and Stack (dust) emissions.