The spread of the COVID-19 pandemic brought economic activity to a near-standstill in the first half of FY 2020-21. Global growth plunged 3.5% Y-o-Y in 2020 – the deepest global recession since the Great Depression. India's (FY 2020-21) GDP is estimated to have contracted by 7.7% Y-o-Y. Yet despite the dramatic toll on lives and livelihoods, resurgent demand in China and a better-thanexpected post-lockdown recovery in H2 meant the effect on the global steel industry was relatively benign.
In 2021, the global economy is poised to grow 6% Y-o-Y, driven by policy support and improving consumer sentiment. The outlook for the global steel industry in 2021 is positive, benefiting from the substantial fiscal stimulus – especially infrastructure-supportive spending – by governments in the developed world and China, as well as the global manufacturing recovery.
Beyond the near-term uncertainty, it is clear that the post-pandemic world will be unavoidably different. Recent years have been marked, for example, by elevated geo-political volatility, accelerated technology disruption and greater action to mitigate climate risks, among other important global trends. The pandemic has accelerated many of these shifts, while underscoring the pace at which we need to act to remain ahead of the curve.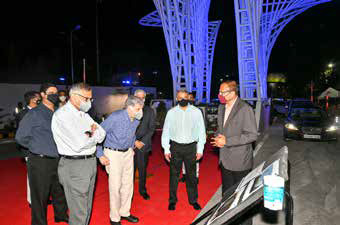 Tata Steel's Four Pillars of Transformation
Tata Steel Group has pursued four broad dimensions of transformation that position us strongly and boldly for the future. This strategy reflects in the steps we have taken during this difficult, pandemic-disrupted year
1 Resilience and Agility
One of the keys to our agility and resilience was a robust risk framework, which raised early red flags related to the pandemic, giving the organisation an important head start – on the order of a month – for preparations which proved crucial.
In FY 2020-21, your Company achieved its highest ever consolidated EBITDA of `30,892 crore with 71% Y-o-Y growth, translating to an EBITDA per tonne of `10,838 and an EBITDA margin of ~20%. This was driven by higher prices, a better product mix, and operating efficiency initiatives. Your Company also recorded its highest-ever free cash flow of `23,748 crore, driven by efficient management of working capital and a strong focus on cash.
Two notable examples of resilience stand out. Despite challenging market conditions (India's FY 2020-21 GDP contracted 7.7% Y-o-Y), deliveries at Tata Steel India increased 2% over FY 2019-20, enabled by a seamless shift to exports in the first half of the year. Tata Steel India was cash positive in Q1FY2021, a significant achievement given the pandemic. Your Company has reclassified Tata Steel South East Asia operations to 'Continuing Operations' from 'Held for Sale', on the back of a 50% increase in EBITDA to `549 crore. This was enabled by higher prices and a focus on raw material cost reduction.
2 Simplification and Scale
Riding the steel cycle to deleverage far beyond targets, and successfully integrating key acquisitions, are key indicators of your Company being well-positioned for both inorganic and organic growth opportunities. As part of the enterprise deleveraging plan, Tata Steel Group completed deleveraging of net debt by `29,390 crore (~$4 billion) in FY 2020-21, surpassing the annual deleveraging target of $1 billion. As a result, its net debt-to-EBITDA ratio has dropped to a healthy 2.4 in FY 2020-21, from 5.8 in FY 2019-20 and 3.2 in FY 2018-19.
This success has enabled us to continue critical capital expenditure focussed on India, including the ongoing Pellet plant and Cold Roll Mill commissioning at Tata Steel Kalinganagar. Once completed, these investments will help expand margins by boosting value-added products into the existing mix.
We progressed further on simplifying the India business to create four clusters: Long Products, Mining, Downstream and Utilities & Infrastructure Services. Most notably, progress was made on the Scheme to amalgamate Tata Steel BSL and Tata Steel, with both companies' shareholders approving the Scheme at a March 2021 meeting.
Operational integration focussed on improved efficiencies has reflected in the robust financial performance of Tata Steel BSL and Tata Steel Long Products, which delivered FY 2020-21 EBITDA of `5,481 crore and `1,154 crore respectively, a marked improvement on FY 2019-20 EBITDA of `2,370 crore and `184 crore, respectively.
Tata Steel BSL's performance is particularly commendable. Its EBITDA grew 131% from FY 2019-20 to FY 2020-21, as a result of increasing use of captive raw material, combined cargo planning (inbound and outbound), and manufacturing of Tata Steel branded products at Tata Steel BSL plants at arm's length. This rapid business transformation experience will be invaluable as the steel industry's consolidation continues over the next decade.
In Europe, the pandemic-induced economic contraction saw a 11% reduction in 2020 steel demand over 2019 and created considerable challenges for Tata Steel Europe. Following the termination of the discussions with SSAB on Tata Steel Netherlands, the Company is focussed on performance and cash flows in the immediate term. The process to separate Tata Steel Netherlands and Tata Steel UK is currently underway. Tata Steel remains committed to arrive at a strategic and sustainable resolution for its European portfolio.
3 Technology and Digital Leadership
Tata Steel plants have been recognised widely for the pioneering use of advanced analytics to optimise the way raw materials are used, as well as embedding – through capability building and worker training – the ability to continue driving improvements over time. In turn, this digital analytics effort has helped raise margins by several percentage points, making Tata Steel plants among the most advanced steel plants globally.
This year, the Tata Steel Jamshedpur plant was recognised as part of the World Economic Forum (WEF) Global Lighthouse Network, in addition to our IJmuiden and Kalinganagar plants.
Beyond core technology innovation, your Company will pursue its digital sales channel. Revenue through Tata Steel India's e-commerce portal Aashiyana increased to `726 crore – growing 130% over FY 2019-20 – enabled by more consumer touchpoints and higher adoption by ecosystem partners.
Going forward, we will focus on six areas of technology leadership: utilising low-quality raw material; coatings of the future; mobility; carbon capture and usage; hydrogen and water.
4 Enabling Planet Resilience
Leadership in mitigating emissions, in accessing low-cost clean energy, and in providing circular economy solutions will define our sector's journey going forward. Tata Steel India and Tata Steel Europe are already recognised as 'Sustainability Champions' by the World Steel Association (WSA). Tata Steel's IJmuiden plant is among the most environmentally efficient and cost competitive steel producers in Europe and as a result, Tata Steel Netherlands is ranked in top 5 lowest CO2 emitting heavy industries by WSA.
But we know there is much more to be done. This year, we created the long term decarbonisation plan for Tata Steel India, Tata Steel Netherlands and Tata Steel UK. In India, we ventured into the Steel Recycling business, a definitive step towards a lower footprint production process across emissions, resource-use and energy consumption. During the year, the company sent out its first raw material consignment of ferrous scrap for trials, from its Scrap Processing Plant (0.5 MnTPA capacity) at Rohtak, Haryana.
We are working to push our sustainability ambitions even further, exploring new manufacturing processes such as scrap-based electric arc furnaces and gas-based direct reduced iron; investing ahead on promising green technologies like Carbon Capture Use and Storage (CCUS); assessing the long-term supply of key inputs such as clean electricity and biomass for hydrogen production; and securing supply of carbon offsets.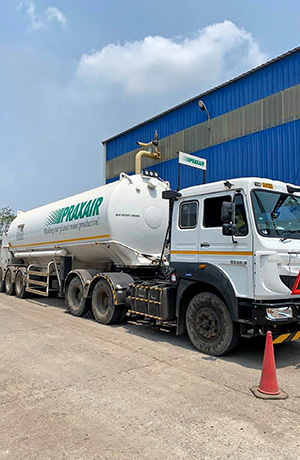 Tata Steel's COVID-19 response
In this pandemic-defined year, Tata Steel has made considerable efforts to support our employees, families and communities in a number of ways. The second wave of the COVID-19 pandemic in India has seen a five to seven-fold increase in the demand for medical oxygen. As of May 2021, Tata Steel India has cumulatively supplied 55,000 tonnes of liquid medical oxygen from our installations. We also helped debottleneck oxygen transportation in the country by importing 40 cryogenic tanks, and more tanks are in the pipeline.
Over the entire pandemic period, your Company's #CombatCovid19 programme and direct COVID-Care support has reached the lives of over 1 million beneficiaries, providing medical and sustenance supplies, treatment, counselling and livelihood support. Across the Company's operating locations in Jharkhand and Odisha, over 1,600 COVID treatment beds were set up and 50,000 vaccinations administered. Over 2 million cooked meals were provided across various locations. In keeping with the ethos of the Tata Steel Group, we are continuing to deepen and broaden our efforts in timely response to the evolving nature of the pandemic.
In conclusion
As the Indian economy recovers from the pandemic, ongoing reform measures and forward-looking policies such as 'Atmanirbhar Bharat' have the potential to boost the growth trajectory. The steel industry is also entering a phase which will see better spreads enabled by robust demand and geo-political factors. The strategic moves your Company has made over the last few years has given it the structural and financial strength to capture the opportunities that arise going forward, while ensuring its resilience in the face of uncertainty and a dynamic operating environment. As we continue to position ourselves to capitalise on the opportunities of the coming decade, we will strive to be a leader in the transition to a greener economy – aiming to create a virtuous cycle of growth and returns for our shareholders.
This is the challenge ahead of us and a new frontier in an exciting journey for the Tata group. As a large and diverse conglomerate based in India, but with a global footprint, we are uniquely positioned for this leadership. Our companies are present in 150 countries, we employ over 7,50,000 people and touch the lives of 650 million consumers. I will be the first to say that we have a long journey ahead of us. But we are clear that this is the right journey we must undertake and have begun with pushing targets and ambitions forward.
Before I end, I would like to take this opportunity to thank all our employees and their families for their profound contributions in these trying times. I would also like to thank you shareholders for your continued trust, confidence, and support in the coming years.
Warm regards,
N. Chandrasekaran
Chairman