A 100 year heritage of Mining
In the true spirit of enterprise, Tata Steel Limited, nearly 100 years ago, pioneered the discovery of the rich mineral wealth in Jharkhand and Orissa. Since then, it has continued to play a leading role by introducing modern mining techniques which today have become benchmarks in the steel industry.
Jharia - 100 Years of Sustainable Mining
In 1903, eminent geologist, P. N. Bose discovered iron ore deposits in Gorumahisani hills in Mayurbhanj state. Following this, he wrote a letter to J. N. Tata on February 24, 1904 urging him to explore further. Since no geological data was available either with the Government or any other agency, J. N. Tata took steps to undertake prospecting in these areas to assess the quantity and quality of ore. It was this foresight that led to the setting up of Tata Iron and Steel Company at Sakchi, now Jamshedpur.
Today, the Jharia Division celebrates a century of sustainable mining. It began its operations at its Bhelatand 'A' collieries in 1910. Operations in Jharia began as late as 1890 when surveys by the Geological Survey of India drew the attention of entrepreneurs to this ore deposit for use in the blast furnaces.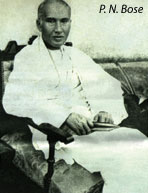 Click here to view P. N. Bose letter
Acquisition of the Coal Fields
About eight to ten tonnes of coal were sent to Germany and America for testing, together with a quantity of iron ore from Dhalli and Rajhara hills. With the smelting of coal with iron ore it was discovered that the result was highly satisfactory.
The economic advantage offered by the proximity of India's most important storehouse of prime coking coal to its richest iron ore deposits gave birth to the iron and steel industry in India.
On its creation, the first priority for the then Tata Iron & Steel Company Limited (now Tata Steel Limited) was to acquire mineral deposits and secure raw material supplies of iron ore, metallurgical coal and limestone – initially for the next 15 years. From 1910 to 1918, Tata Steel leased six of the metallurgical coal bearing properties in the Jharia coal fields, situated in the Damodar River Valley, with estimated reserves of 287 million tonnes. Spread across 5500 acres, these six collieries are grouped in two locations, Sijua and Jamadoba. The Bhelatand colliery of the Sijua Group was acquired by the Company from Barakar Coal Co. Ltd. Subsequently in 1918, Tata Steel acquired Malkera and Sijua as well as Jamadoba, Digwadih and 6&7 Pits Collieries of the Jamadoba Group.
The Indian operations of Tata Steel draws its greatest strength and its competitive position as one of the lowest cost producers of steel in the world from the quality and yield of its raw material units. The mines have successfully given it raw material security and have partially insulated it from the volatility of the global markets. The Company has, therefore, continuously modernised and expanded its raw material facilities right from the 1950s, when Tata Steel launched its two million tonne expansion programme.
Technological Progress in Jharia
In the early years, good quality metallurgical coal for steel making was available in sufficient quantities in the market. The Company purchased coal from the market and extracted small quantities from its own mines. Coal was then mined with hand picks and loaded by baskets into tubs. It was hauled to the surface with the help of steam winders. Over the years, technological innovations led to the following improvements:
The 1930s and 1940s saw the advent of mechanisation and coal cutting machines, electric drills and endless haulage were used to transport coal to the surface. In 1942, a three mile long ropeway was also built which made underground mining safer and more productive.
Coal beneficiation began between 1950s and 1960s and a 300 tonne per hour Central Washery at Jamadoba was installed for all six collieries in 1952. Later in 1967, a Dense Media Cyclone was also installed.
The installation of Koepe Winders in the 1970s helped increase production and transportation of miners.
Ash reduction since 1980s has helped increase productivity. In 1988, a fluidised Bed Combustion Power Plant was set up.
In the 1990s, Information Technology (IT) was used in planning and surveying. It was also used in the integration of the Division with the Jamshedpur Steel Works through an ERP System, which brought about superior connectivity.
Winders with Programmable Logic Controllers (PLC) at Digwadih and the deepening of the 9 Pit shaft, prepared the division for the pace of things to come in the new millennium. A Tailing and Dewatering Plant and Rotary Breakers were added at Bhelatand.
During the decade, modernisation of the Jamadoba Colliery was initiated. This was achieved by the commencement of opencast mining commencing at the Kalimela Colliery.
A Focus on Environment Sustainability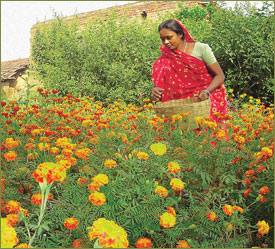 Even before Tata Steel mined its first tonne of coal, it gave itself the aim of conserving the resources in its mines, taking the first step in environment sustainability. It is fully committed to preserving the ecological balance and safety and to learning from its mistakes. All its mines are ISO-14001-Environmental Management System Certified. In addition to conducting massive tree plantation campaigns, location specific, environmental management initiatives have been taken.
Today, the Jharia division fulfils the philosophy of putting back into the earth what has been extracted from it, by also using coarse ash from its captive power plants for stowing. Careful planning has resulted in mine water being conveyed from all the collieries to four water treatment plants which is then recycled for use in the residential colonies of employees. Energy conservation is continuously improved due to the involvement of the employees of the Jharia division. The division is also continuously cutting back on the use of conventional timber to provide roof support in underground mines by introduction of roof bolts, using compressed air drill machines and adopting more efficient methods for coal extraction.
Commitment to Employee Welfare

Underground operations pose both safety and health risks. At the same time, mine locations, by their very nature, are remote and lack connectivity.
In Jharia, Tata Steel has made available to its employees, amenities such as schools, hospitals, housing, water, power, sanitation, recreational facilities, telephone, internet connectivity and a clean living environment.
Safety and occupational health
The Jharia division has adopted undoubtedly the best mines rescue procedures, as is evident from their track records at various competitions.
The division also follows the Tata Steel Safety Excellence Management and Review processes, which allows it to proactively assess risks and hazards and to control them through multi-level safety action plans.
Training and skill enhancements
The advent of mechanisation in underground coal mining is as much a treatise on technology as it is on manpower training. In 1967, the first professional training institute in India for coal mines was set up in Digwadih. This was followed by institutes at Sijua and Malkera. A Mechanisation Training Centre was also set up at Jamadoba in 1971. These institutes have kept employees abreast of the latest technologies. The division has designed need-based training programmes for employees.
Social Sustainability
Tata Steel was conceived by its founder, Jamsetji Tata, to serve the interests of his country. In the early years, as the Company invested in employee welfare amenities, it simultaneously allowed the local community access to them. In 1979, it set up the Tata Steel Rural Development Society (TSRDS), with the first rural welfare unit in Jamshedpur. Today over 20,000 patients are provided basic health care. TSRDS provides safe drinking water, higher farm yield and productivity and empowerment of individuals effected through sports and education.
A Continuing Raw Material Resource Strength
Today, the raw materials division of Tata Steel raises over 14 million tonnes of ore from the states of Jharkhand and Orissa. Coal, iron ore, manganese ore, chrome ore and dolomite are produced at various mines and quarries for Jamshedpur's steel plant.
Tata Steel has two collieries in West Bokaro and Jharia. The West Bokaro unit is an open cast mine, while the Jharia unit is an underground one. The coal mines are located about 150 kms from the steel plant at Jamshedpur and produce superior grades of clean coal. Tata Steel's collieries use Surpac, a state-of-the-art mine planning software, that estimates the volume of coal in every seam. This is coupled with qualitative detailing that focusses on output consistency. To maximise productivity and utilisation, a voice and data equipped Global Positioning System is used, which helps to supervise mining activity for machine movement and engine status.
Iron ore mining is an integral part of steel making at Tata Steel and began with the discovery of iron ore deposits in 1903. The iron ore units are located in Noamundi, Joda and Katamandi in the states of Jharkhand and Orissa. The Company also has manganese mines and dolomite quarries in Orissa.

The Company's iron ore units produce 9 million tonnes per annum (mtpa) of various grades of high quality iron ore including rich blue dust ore. The mineral ore is crushed, right-sized and washed in-house at the site and transported to the steel works in Jamshedpur and to other customers. The mines division also provides technical services to the Bhutan Dolomite Mine in the Royal Kingdom of Bhutan.
Beyond Jharia - a Global Strategy for Securing Raw Material
The Tata Steel Group is actively pursuing the long-term strategy of acquiring and developing mining projects for the security of iron ore and coking coal. It has also explored mining opportunities overseas for ferro chrome and limestone.
To enrich its raw material supply, Tata Steel has also set up joint ventures outside India in Queensland, Australia and Thailand. With iron ore from its overseas mines at, New Millennium Corporation, Canada and Ivory Coast, iron ore security would gradually increase over the next few years. The overseas coal mines of the Group are located in Australia and Mozambique and the coal mines at CDJV, Australia are already producing coal. The Riversdale mines in Mozambique are likely to begin production in the near future.
Riversdale, Mozambique Coal Project
Tata Steel has formed a JV with Riversdale Mining Limited, Australia for a 35% stake in two coal tenements in Mozambique - Benga and Tete including offtake rights to 40 per cent of coking coal produced from these mines. The production from Benga mine is expected to begin in 2011.
Carborough Downs Coal Project
Tata Steel has 5% in the equity capital of the Carborough Downs JV, Australia in partnership with Vale, Nippon Steel, JFE, and POSCO. It was formed to develop a coal project in the Bowen Basin. The first raw coal production began in August 2006 and the mine is currently producing around 1 mtpa. The second phase of expansion is in progress.
New Millennium Capital Corp Iron ore Project
In September 2008, Tata Steel entered into a Heads of Agreement with New Millennium Capital Corp, Canada to develop iron ore projects in northern Quebec. The Company has acquired a 19.9% stake in it.
Uyun Limestone Project
In January 2008, Tata Steel signed a JV agreement with the Al Bahja Group, Oman for the mining of limestone in the Uyun region.