Samvaad - A Tribal Conclave, is Tata Steel's Tribal Cultural Society's initiative that seeks to revive, preserve and promote tribal culture.
Samvaad is a Five-day conclave that celebrates Tribalism in India. The event commemorates the birth anniversary of iconic tribal leader Birsa Munda, as well as the Foundation Day of the State of Jharkhand. This first-of-its-kind festival, organised by Tata Steel, will be held for the sixth consecutive year at Jamshedpur.

This year's conclave – the theme of which is "Tribalism Today" – will explore the interaction of tribal communities with 21st century phenomena like climate change, technology and constitutional frameworks.
Samvaad 2019 - Programme Schedule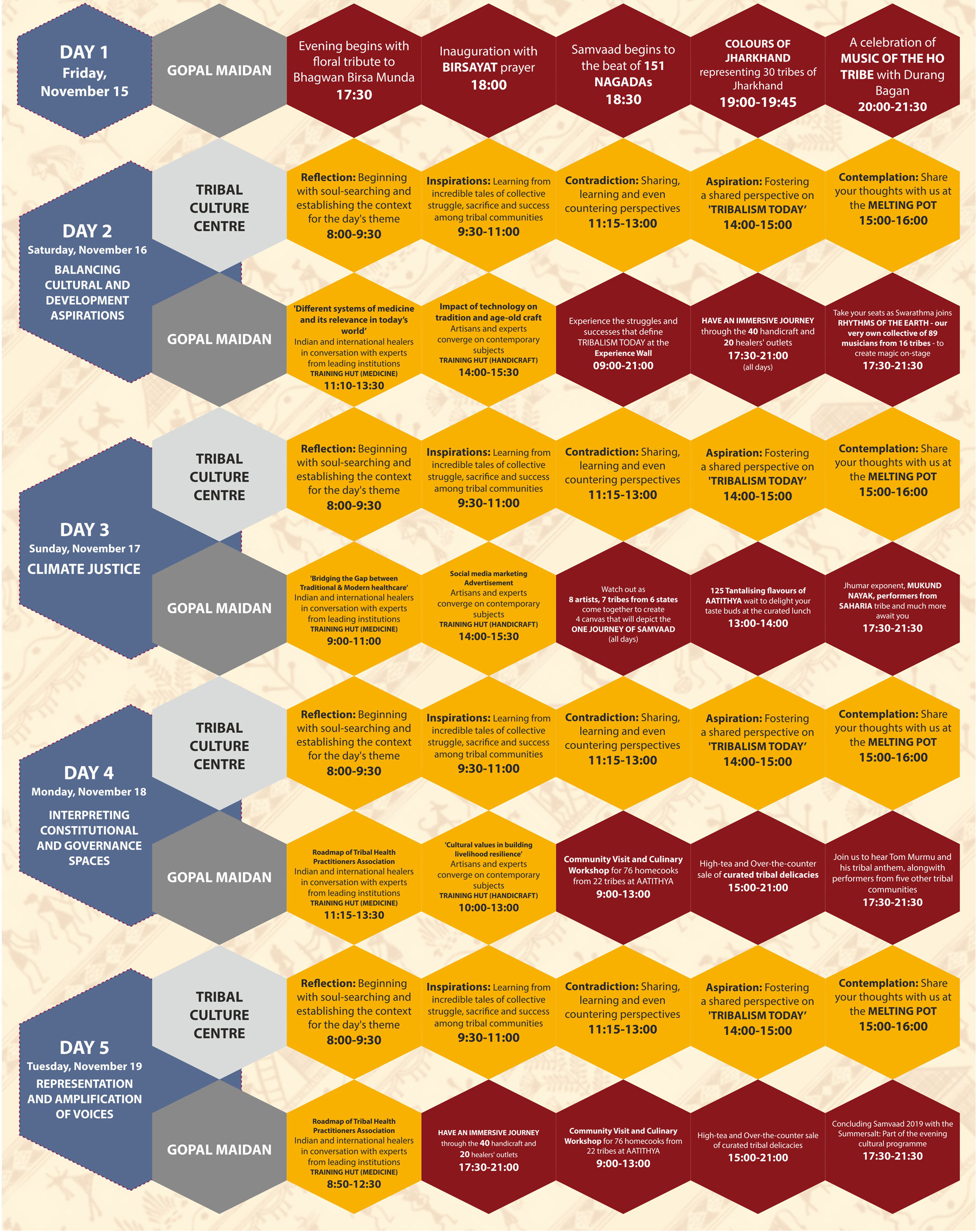 Regional Samvaad 2019
Samvaad is structured to have a wide reach through its regional editions, culminating at the main conclave in November. In its sixth year, this signature programme continues to emerge not just as a platform for cross-pollination of ideas and thoughts on tribalism in India but also one that actively seeks out bold voices from the grassroots level.

The theme of the main Samvaad Conclave this year, 'Tribalism Today' will take centre-stage at all Regional Editions of Samvaad, to be held in six locations.

Varsities and organisations in the development sector have joined us to engage with tribal communities through Regional editions of Samvaad that will take place in Odisha, Karnataka, Madhya Pradesh, Jharkhand, Arunachal Pradesh and Maharashtra.
| Regional Samvaad | Venue | Date | Tribes | Districts | Participants |
| --- | --- | --- | --- | --- | --- |
| Regional Samvaad-I | College of Forestry, Ponnampet, Coorg Karnataka | Sep 9-10 | 19 | 18 | 78 |
| Regional Samvaad-II | Odisha University of Agriculture and Technology, Bhawanipatna Odisha | Sep 17-18 | 18 | 14 | 84 |
| Regional Samvaad-III | Rajiv Gandhi University, Itanagar Arunachal Pradesh | Sep 21-22 | 31 | 45 | 110 |
| Regional Samvaad-IV | College of Agriculture, Sonapur, Gadchiroli Maharashtra | Sep 28-29 | 15 | 18 | 131 |
| Regional Samvaad-V | Indoor Stadium, Gumla, Jharkhand | Oct 01-02 | 16 | 11 | 223 |
| Regional Samvaad-VI | Shagun Garden, Jhabua Madhya Pradesh | Oct 12-13 | 14 | 21 | 126 |

Samvaad 2018 at a glance
Group
sessions
Tribal Food
festival
Tribal
sports
Cultural
Performances
International
tribes
Handicrafts
Fashion
Show
Did you know?
The single largest platform backed by any corporate house, Samvaad draws over 1,200 tribal artists, scholars, thinkers, development practitioners and experts from other walks of life, annually.

Samvaad is fast growing as an eco-system for tribes' dialogue, discussions, celebration and dissent.

Aspiring tribal youth leaders have been handpicked and nurtured at Tribal Leadership Programme (TLP), a crucial initiative in the Samvaad universe.

Samvaad has emerged as a platform where tribal thoughts and voices manifest in various forms –panel discussions, paper presentations, cultural performances and film screening.

Regional Samvaads organised in different parts of the country make Samvaad more participatory and broad-based.